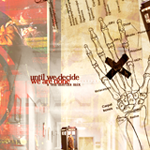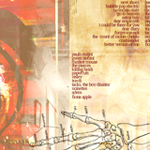 Until We Decide We Are Done
Martha Jones and the Doctor. Their relationship in S3, from start to finish(?).
For
hollywoodgrrl
, who made me take the glasses off, and for
ponderous77
, my pillar of fandom sanity.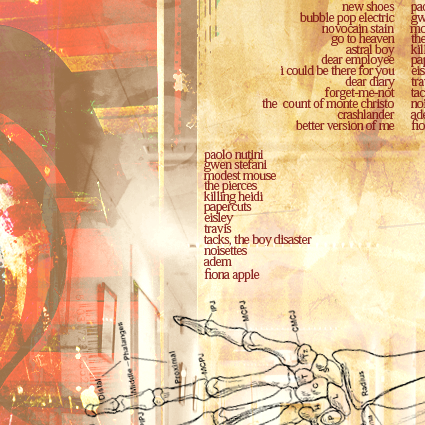 (Smith and Jones/The Shakespeare Code)1. New Shoes -- Paolo Nutini
Woke up cold one Tuesday
I'm looking tired and feeling quite sick
I felt like there was something missing
In my day to day life
2. Bubble Pop Electric -- Gwen Stefani
I'm itchy
I wish you would come scratch me
Tonight I'm falling
Won't you catch me?
Swoop on by so you can snatch me
And take me out
(Gridlock)3. Novocain Stain -- Modest Mouse
When I can work out how it was
Then I'll tell you...
I don't fit the shoes...
Remember her sounds
Remember her smells
Remember her colors
Remember through towns
With fear and fascination
On what was here
And what's replacing them now
4. Go to Heaven -- The Pierces
You are absurd
You say the cutest things I've ever heard
I don't think I can take another word
No, I said
I do not think that it's all in your head
But we may not find out until we're dead
Or until earth explodes
And everybody goes to heaven
(42)5. Astral Boy -- Killing Heidi
Astral boy, you're so hot
Will you ever melt?
Flying so close to the sun
Now you know how I felt
Now you're cold
You're so alone
Sitting on the floor
Hardwood boards and abstract thoughts
Gesture to the door
(Human Nature/The Family of Blood)6. Dear Employee -- Papercuts
Bring me my papers
Bring me my coffee
Pick up your check and go
You're just my employee now
I don't need you
I'm not alone
7. I Could Be There For You -- Eisley
Cause you are nothing what you seem
You're always looking out for me
You'll never contemplate that I am near
And help goes unseen
You're a cave admitting whom you choose
And I could be there for you
8. Dear Diary -- Travis
Dear diary
What is wrong with me
Cause I'm fine between the lines
Be not afraid
Help is on its way
(Utopia/The Sound of Drums/The Last of the Time Lords)9. Forget-Me-Not -- Tacks, the Boy Disaster
Forget me not, my dear
When you don't see me for a year
Cause I'm underground
And when tomorrow becomes today
Leave some flowers at my grave
For the world to see
10. The Count of Monte Christo -- Noisettes
So the Count of Monte Christo
Threw the cape over his head
Gave me a penny for my thoughts
But wouldn't get no change just
Old aged rhythmns
They were singing in his brain for
A mechanical crusade
Tried to shoot down his aeroplane
But I see, you see
Ain't no more honey from this bee
11. Crashlander -- Adem
Crashlander, there's damage
But at least you're alive
The hardest thing you could have done
You've done now
It's easy from here
Turn your back on
The constellation you flew from
You are hurting, lonely
Hopeful, Happy
Pull yourself free
With the wreckage at your feet
There's a million worlds to explore
When you're ready the cosmos is yours
12. Better Version of Me -- Fiona Apple
After all the folderol
And hauling over coals stops
What did I learn
Oh, Mister, wait until you see
What I'm gonna be
I've got a plan
A demand
And it just began
And if you're right, you'll agree
Here's coming a better version of me
LINKS ---->
mediafire
//
sendspace
Comments are shiny, especially if you take. :)
More mixes and thingos in the
memories
.
mood:
productive
tunes: pj harvey - we float