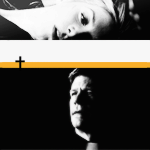 postcards from purgatory
| a jack/erica mix
8 tracks + cover art
NOTES: Wish fulfillment fanmix. Ideas that I loved about Erica and Jack, and a (different) conception of them as friends, and then as a ship. Jack's choices re: involving himself in the rebellion; that the path he was walking could have involved greater moral conflict/ambiguity, taking more actions in the face of/against firmly held beliefs (despite the inner struggle) for the war, and for Erica. Not always talking her out of a plan, for saying yes more instead of no. I do love him being Erica's moral compass and their canon relationship, a light in her world as it grows darker and darker still. But at the same time, there's a part of me that wishes I could also see an opposite route play out, one that would eventually lead to a more than platonic relationship between them (not to say that what's going on in canon wouldn't/couldn't go there, as well). That's where the real heart, and point, of this mix lies. That minefield. The struggles they'd both go through progressing towards having ~the sex~ /Miranda voice. I don't care when you set this concept in terms of s1 or s2, but I think it holds more interest with the notion that he's still a priest in an official capacity. (Hell, the whole being stripped of priestliness doesn't even need to factor in. [And, at the end of the day, he was forced out. Going down this different road...would he eventually have made the choice to leave himself?])
A mix for a moral battle. A crisis of faith.
But, who am I kidding? It's really music for sex in a confessional.
(
Under the watchful eye of Jesus. Bang the priest.
)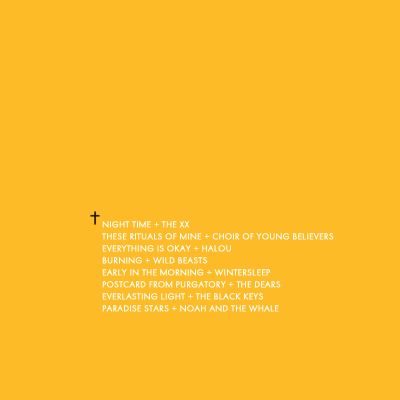 What do you know about heartbreak, Father?

I've been in love before. I wasn't born with this collar on.
01. night time | the xx
can i confess these things to you
well I don't know
embedded in my chest
and it hurts to hold
and i couldn't spill my heart
my eyes gleam looking in from the dark
i walk out in stormy weather
hope my words keep us together
steady walking but bound to trip
should release but just tighten my grip
02. these rituals of mine | choir of young believers
you baptize me in your love
these rituals of mine
like crystals in your eyes
they'll just always be around
03. everything is ok | halou
disregard your inner monologue
don't try to drown it out
because it'll only wear you out
sometimes things are just beyond control
that has to be ok
and i'm so tired
of you constantly over-thinking
just your style to break it all into pieces
everything is unacceptable
if you over-analyze
04. burning | wild beasts
i'm saved
you pull my fingers off the deck
you pluck me wriggling from the rain
i'm saved
you cast me up into the wind
you shove my body from the skin
i'm saved
the fire looking at the warmth
you drag me burning 'cross a court
i'm ashamed
lying fallen on some step
clutching at the empty air
i'm awake
i see you walk into the room
05. early in the morning | wintersleep
staring through the candle
staring through the people
hiding in our bodies
drifting in these vessels
i say it loud and clear
dont know if i believe it
tonight i want your body
dont give a fuck about your spirit
how you gonna lie to yourself?
how you gonna lie?
tell me there's a violence here
tell me that there's nothing inside
i can feel your fingers close
i can feel your falling clothes
tell me that there's nothing
tell me that you don't know
06. postcard from purgatory | the dears
we have not wasted all
all of our lives
empty heads
empty hearts
empty souls
07. everlasting light | the black keys
let me be your everlasting light
your sun when there is none
i'm a shepherd for you
and i'll guide you through
let me be your everlasting light
let me be your everlasting light
your home when there is cold
in me you can confide
when no one's by your side
let me be your everlasting light
08. paradise stars | noah and the whale
instrumental
.zip
on
mediafire
|
megaupload
mood:

thirsty
tunes: the black keys - everlasting light