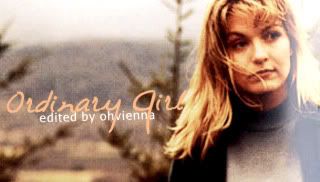 Song:
An Ordinary Girl
Artist:
I Am Kloot
Spoilers:
Fire Walk with Me
/
Twin Peaks
Warnings:
NSFW (nudity)
Size:
33.9mb
Download:
here
Streaming:
embedded
Summary:
"...you didn't know Laura Palmer." No one did.
Notes
: Laura Palmer's story as presented in
Fire Walk with Me
left a deep and indelible impression on my mindgrapes. FWWM got under my skin in a way that few other films have been able to do, hence, I present this vid.
Many thanks to
hollywoodgrrl
for being beta-extraordinaire once again. Thank you for putting up with all the shenanigans. If any of you have not seen her incredible
Twin Peaks
/FWWM vid
Passenger Fever
, please do so now.
Password:
falling in space
An Ordinary Girl
From an ordinary house, in an ordinary world
From an ordinary town, there came an ordinary girl
Wore a face that looked surprised, a book of dog-eared rhymes

She never made a sound, never said a word
Nothing was ever seen, nothing was ever heard
From an an ordinary town, and an ordinary girl

She's feeling outrageous, so daft and courageous
She's laughing, flirtatious, while falling unconscious
She's selfish and needy, she's wanton and greedy
She's mugging her lovers, she's bleeding the buggers from below

In an ordinary house, in an ordinary town
Upon an ordinary street, nothing was ever found
That ordinary girl who never made a sound

She's up in the attic, she's bristling with static
Her beauty's vampiric, so solemn and stoic
She's wanton, she's needy, she's selfish and greedy
She's mugging her lovers, she's bleeding the buggers from below

The ones she's been kissing, all strangely've gone missing
On a day when the weather was stormy, untethered
"Do you see them?"
No never, they all went together
They all went together with the ordinary girl
mood:
working
tunes: bertie blackman - town of sorrow