Bedroom Dancing
// A Ten/Reinette EP
A fanmix for 2x04 - "The Girl in the Fireplace."
Because they done sex. Probably. ;)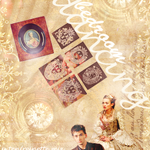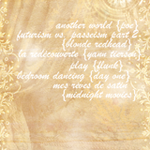 Reasons for this mix are several, but mayhaps not worth detailing at length. GitF is one of my favorite episodes, Ten/Reinette is a great ship of Much Intrigue in that it proves and disproves several things that I subscribe to (the general OTP-less-ness of DW and then also *points to icon*). So I done made a mix, as I tend to do. I really enjoy how the tone of this came out; I think it blends right in with the vibe of the episode, or at least I hope it does. As well, there are some things in the art that I think are worth noting - the borders are from the covers of books in Madame De Pompadour's library, and the crests in the middle are hers and her family's. This comes a thousand years too late and in the midst of companion-palooza; maybe just my way of fantasizing about Reinette as companion (+more and such). I make my own fun! Anyway, enjoy. :)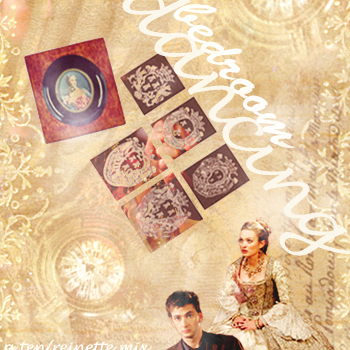 01.
Another World
//
Poe
What's the crime, man/Caught in space/Nothing and everything is/Always always always
What's your hurry/What's the hurry/There's no need to drive yourself so crazy
Solar reaction ruptures the skin/And the sky above is saying/The world is caving in
See you're afraid to make that change/Just close your eyes/Then let me explain it to you
It's easy/Oh so easy/There's no need to drive yourself so crazy
Bypass those channels of your memory/Why don't you mute those cruel voices/And those frequencies
And don't worry/No don't worry/It's just living
02.
Futurism vs. Passeism Part 2
//
Blonde Redhead
The most important time is the first time/The most important time is the second time
And after that the third time/And on again
I lost the habits of my youth/And I feel disunited/And share my own story
And on again [in French]
03.
La Redécouverte (The Rediscovery)
//
Yann Tiersen
[Instrumental]
04.
Play
//
Flunk
Everyone/Every sinner and every saint
Everything/Every picture and lick of paints
Everyday/Every sunrise and starry night
It's cold, cold, yeah, beautiful
Everybody knows that life can be wonderful
It's a soothing delight/And it's moving my life
05.
Bedroom Dancing
//
Day One
Do you want to go dancing in a club?
We can have a good time and live it up
Said if you want to go dancing/You got to wear a tuxedo
And we could do the tango/Wherever we go
Said if you want to do the tango/Then we're going to need a ballroom
So she took me by the hand/And led me to her bedroom
06.
Mes Rêves De Satin (Nights in White Satin)
//
Midnight Movies
Nights in white satin/Never reaching the end
Letters I've written/Never meaning to send
Beauty I'd always missed/With these eyes before
Just what the truth is/I can't say anymore [in French]
.zip @
MediaFire
//
Sendspace
.
I could've danced all night, I could've danced all night and still have begged for moooore...
I could've spread my wings and done a thou-- have you met the French? My god, they know how to party.
Comments are spiffy, especially if you take. :)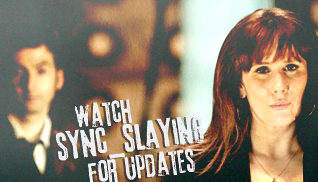 mood:
amused
tunes: monty python - dennis the constitutional peasant